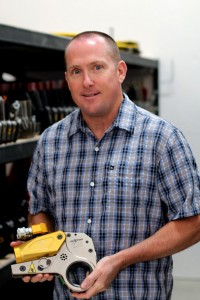 Established in 2000, Torque Tools California has become one of California's leading torque tool repair, rental and sales centers. Torque Tools California was founded by Jim Shaw, a former employee of Hytorc Tools, due to what Jim saw as a need for better and more personalized service.
The current owner, Todd Diamond, is a mechanical engineer by trade and brings experience in providing real-world bolting solutions.
Todd's expertise and commitment to solving bolting problems and getting the products to our customers FAST has helped put the company on a growth path allowing us to provide much greater service capabilities throughout California and the West.
Torque Tools Sales & Service Capabilities
We are a distributor for many of the industry's highest quality manufacturers of Torque Tool and related products.  Hytorc type of hydraulic torque wrenches are just the start of what we offer.  Please contact us for a free no obligation demonstration of our products.  We also carry with us the competitor products for live comparison.
We have a full service center with the capability to service and repair most any brand of tool in the industry.  If we can't fix it, nobody can!
Torque Tool Product Rentals
We also have a wide assortment of torque tool products ready to be delivered to your site on a rental basis.  We have just about every size you need and all of the accessories to go with it.